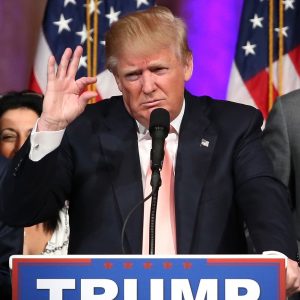 Trump is a Troll
Donald Trump is a classic internet troll, especially when he's on the internet. His twitterfeed is a perfect example; you will check that there's a blue tick and it's not actually a parody. Everyone does. It's unbelievable, and ridiculous, and then scary – just like Trump is in real life, and that's how you know it's him.
Internet trolls are simple creatures, and easy to spot with a little practice. There's been an academic study, and several more user-friendly articles on the back of that, too. But these often relate to deliberate trolling in specific types of forums, rather than that annoying person on facebook who shares David Avocado Wolfe posts, angel wishes and calls you a 'libtard' for not hating immigrant children – and they're trolls, too. Try asking them a direct question, especially about something they've just said. All you'll get is another question – often the one you just asked turned around – accusations, or abuse. Post a statement contradicting their point of view, even with all the evidence in the world, and they'll just say you are lying. Then, obv, more abuse. How dare you bully them like that? You fascist*.
Unlike a lot of internet trolls, however, Trump is also a troll in real life. This is because he's basically a narcissistic sociopath**. Lots of trolls behave the way they do on the internet because they don't see the people they are talking to or about as real people; the text barrier allows them to easily dehumanise the people behind the comments. Trump does this to real people, right in front of him. People whose angry, hurt and frightened responses are right there on their faces and in their body language – but he still doesn't care. It doesn't change him or what he's saying in any way. Even when there is direct, well-founded, empirical evidence right in front of him that contradicts everything he says.
This doesn't stop him contradicting himself, however. But, even when you can show him direct, empirical evidence of what he himself has said, he still just calls you a liar, and moves right on. He simply doesn't care what you think, or even what you know. For him, you are just an annoying noise on the outskirts of Trumpworld, and what you believe, think or feel is of no importance. You don't just not matter, you don't even exist. This isn't just you, tiny internet nobody. This is Crooked Hillary, The Lying New York Times, senators, political experts, scientists, even those at the shitty end of the stick he carries with him to beat on his rabble-rousing drum.
So, Trump is trolling reality. Ok, we all know the advice – don't feed the troll. Smart people are advising this as well: don't RT his tweets, don't respond, don't share facebook posts about him, or articles from the press. It only encourages him, he loves the publicity, and most importantly, you'll not change the minds of his real supporters.
There's a core of truth, here. Trolls just say that stuff to get a response, so by giving them one, by caring, you give them more power. Trump does speak for a section of the public, and they adore him. Like with him, there is nothing you can say that will change their minds or alter what they believe – you, just by trying to do this, are part of the conspiracy against him, after all.
But, whilst there's often no point in continuing to feed a troll, there is a point in responding. Just once, just to say, 'No. That's not right, and please don't say such unpleasant things.' On the internet, in your local facebook group, say, you can see this with clarity. If someone posts blaming the increase in littering on a particular group of immigrants, then to just ignore it and leave it without any response at all might well mean that the person who posted it will eventually get bored and wander off again. That post will scroll down, and many people will probably not even see it.
But during that time, anyone coming into your group will see that post, and see that no one has even said, 'Well, I'm not sure that's entirely the whole issue…' It will seem, to an outsider, that you're all tacitly agreeing with it. Yes, maybe you don't want the whole awful fallout popping up on your alerts, but hopefully a group admin will step in before then, or it'll be reported and be seen to contravene the Community Standards***. Or you'll just block them if necessary. There are tools there designed to protect you, and to allow you to say, 'No, thank you. You're being rude and hurtful, and I don't appreciate it,' without fear of reprisals or abuse.
I'm not in any way saying you need to go full on Social Justice Warrior, and take down anything hinting at bigotry wherever you see it. Please don't, in fact, as it can be a very unpleasant and occasionally dangerous business. What I am saying is that there is a purpose in responding to misleading posts or sharing the truth when you find it; there is a group that you can and will reach – and that group is The Lurkers.
Look at any group or forum on the internet: it's a good way of seeing how society works in microcosm. Look at how many members there are, then look at how many actually post regularly. The average can be as low as ten percent. So, what are the other ninety percent doing? They're enjoying the show! Sometimes they'll sneak out for a moment to like or reshare something, but often they just stay quiet, reading along.
Huge portions of society are lurkers. Entirely passive, they see everything, but they don't interact beyond that point. What they see therefore, matters. They either don't have or don't wish to use critical thinking skills to look beyond what's in front of them, and so they are particularly easily mislead by propaganda. Our politicians know this, and so are even less afraid of telling outright lies than ever before.
There was a dream that the internet would democratise information; that one day, everything would be there at our fingertips, and no one could ever lie to us again. Instead, we have the opposite – everything is there, in our eyeline, so we don't need to make any effort to look any further. Brexit happened because a significant number of people believed what they were told, and voted accordingly. No one can blame them for that – at a pinch, you can even not blame the people who voted for Brexit because they 'didn't think it would actually happen'.
Let's not have that happen, with Trump. Let's address the people who think he's just 'a bit of a laugh', a 'character', just saying 'the stuff that all blokes think' or not actually going to win, so it'd be funny to vote for him. Let's address the people who still think he's a successful businessman, that he always wins court cases, that the scandals around him have no basis, that he's not a possible rapist and a definite serial abuser of women. Let's make sure that the people who think he might speak for them hear what he's actually saying.
Trump is a troll, but we are going to feed him. We're going to feed him the bitter truth, even if he spits it back in our faces like the spoilt child he is. We can't stop Trump and his supporters from saying the awful things they're saying, and neither should we. Instead, what we can do is to shine a light on every contradiction, every lie, every abusive and aggressive post, every call to violence, every belittling, nasty, childish comment and soundbite. Find the truth, check the truth and then share the hell out of it, whenever you get the chance.
And let's all do it, because we are a global community now, and our words can travel across national and cultural boundaries. Let's all do it, because we care about each other as human beings, and because those of us who do care are the majority, and will listen to each other.
And because if that isn't true, we truly are doomed as a society, whoever the next US president is.
*What is it with idiots calling left-wing rhetoric fascist? It happens so often, and it's really odd.
**I'm not a psychiatrist, and bandying mental health diagnoses around is not a good or smart thing to do, generally. But I make a needful exception in this case.
*** Hahaha. As if…