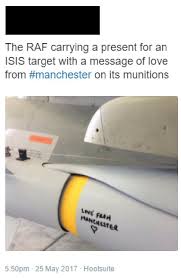 Say something about this?
Ok.
No. I say No.
I say Fuck right off.
I say not in my fucking name. I say not in the name of my city. I say not in the name of fucking love either, you stupid twats.
Do you know what we send when we send love from Manchester? We send bastarding love, you thick cunts. Love.
And it doesn't matter if this picture was phtoshopped or not, it just matters that it exists. No one at the other end of a bomb gets to read what's physically written on it, anyway. But I'm pretty sure no one consulted the people of Manchester before writing that, whoever it was.
And whoever it was, they can fuck off. But not fuck off and die. Because you know what? No one else needs to die. No one. Not one single fucking tosspot of a person.
Not even bloody Morrisey.
Grow up, you daft apaths. Why not come and find out what love from Manchester actually is? There's enough to go around, you know?
Love from Manchester
x